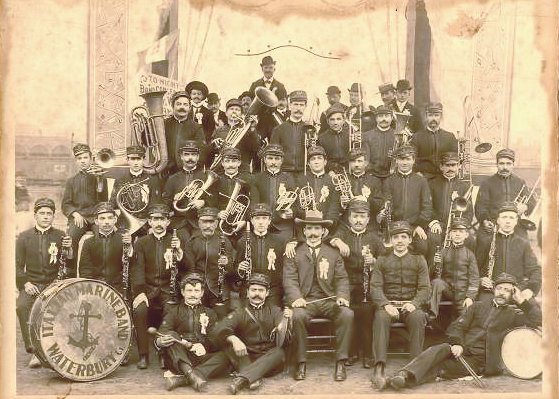 Photo courtesy of Michael DiPietro. The Italian Marine Band of Waterbury. Pictured in the third row: Carmine Frascatore
According to The Italians of Waterbury by Sando Bologna (The Waverly Printing Company 1993), this picture is from the 1910 Columbus Day Celebration. "Conductor Ortone, center with baton, directed bands in Italy. At his right, George Gentile, also a native of Italy, was an orchestra and band conductor." Id., 107.
You are either from Waterbury or Brooklyn
As we were leaving Celenza, a china box in a shop window caught my eye. It had a lovely handpainted picture of the Gambacorta Tower with a blue sky and bricks of golden yellow and brown tones. With our meager skills in conversational Italian, we apologized to the shopkeeper that we could not communicate better in the native language. "Abitiamo negli Stati Uniti," we explained. She was so pleasant and replied that if she visited our country, she would be in the same linguistic predicament.
Throughout our travels in Italy, when someone asked us where in the United States did we live, we would say Connecticut and reflexively add "vicino a New York." In Celenza, we did not need to explain where Connecticut is. The shopkeeper's eyes lit up when we mentioned Connecticut, and she hastily assembled a pile of Christmas cards and letters tucked in red, white and blue air mail envelopes. One by one, she showed us the return addresses: Waterbury, Southbury, Oakville and Wolcott. This was not an isolated incident. When we spoke with a local grocer and told him that we were from the United States, he said to us, "then you are either from Waterbury or Brooklyn."
The Celenzano-Waterbury Community in the 1930's
John Augelli, who emigrated from Celenza Valfortore as a child, described for us the Celenzano community that once thrived in Waterbury, Connecticut. "Of the substantial Italian community living in Town Plot, Congress Ave. and Brooklyn in the 1930's, my estimate is that well over three quarters were made up by Celenzani and others from the the province of Foggia (San Marco, Riccia, Castelnuovo). In fact, I remember a mutual aid society called Societa della Provincia di Foggia. On Congress Ave., where I lived, all of our half dozen immediate neighbors were Celenzani. There were a couple of blocks made up almost exclusively of Celenzani. In my grammar school graduating class (Duggan-1935), at least half the students were Italian, including as many as ten whose parents were from Celenza. Only two of us Celenzani went on to Cosby High School."
While we are aware of a San Giovanni Battista society in Brooklyn, which celebrated the feast of Celenza's patron saint, Mr. Augelli explained to us that things were different in Waterbury. "June 24, St. John the Baptist day [the patron saint of Celenza Valfortore] was not celebrated. Instead, the celebration was for the Lady of Mt. Carmel, the church in Town Plot, which most of us attended."
Ieri (Yesterday) and Oggi (Today)
The first Italian settlers in Waterbury were Pietro and Giuseppe Bauby, who moved to the city in 1872. The Italians of Waterbury by Sando Bologna at p. 12. Within a few years, southern Italians flooded into the city, attracted by opportunities for employment in Waterbury?s brass mills. Id., 15. Between 1875 and 1885, Giuseppe Spallone, Michele Fiscelli, Vincenzo (Iamele) Jamele, Luigi DiPietro, Vincenzo Rossi and Antonio Diorio from Celenza Valfortore all settled in Waterbury. Id. These men most likely arrived through Castle Garden, which pre-dates Ellis Island. The first Ellis Island arrival whom we found that indicated Waterbury as her destination was a twenty-one year old housekeeper by the name of Maria Villani. She arrived on September 14, 1892 on a ship called the Plata, which sailed from Naples.
Even today, the Italian community in Waterbury is strong. All you need to do is look at the newspaper rack at the local grocery store, where America Oggi is sold next to The Waterbury Republican American. The local radio station, WATR, hosts a popular Italian show, "Carosello Italiano." If you click on this link between 10 a.m. and 2 p.m. EST every Sunday, you can here the show. There are also large populations of descendants from Pontelandolfo and Cercemaggiore. Both towns have local clubs and host annual feasts, which draw thousands of people.
Our Stories
The Augelli Family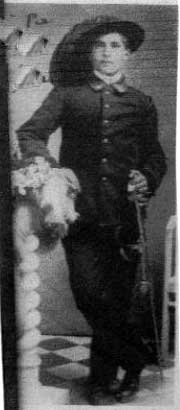 Photo courtesy of John Augelli. Pasquale Augelli, 1915
"This is my father, Pasquale Augelli at age 19, as a Besagliere in the Italian Army during World War I. The photo was taken in Ancona, Italy. Papa migrated to Waterbury, Connecticut in 1922. After waiting the obligatory seven years, he applied for and received his U. S. citizenship papers. He immediately sent for my mother, Antonietta, my sister, Mary, and me. We arrived in Waterbury in 1929 when I was eight years old. Papa's offspring are to be found not only in Connecticut but also in South Carolina, Florida, Texas, Oklahoma and Kansas."
The Spallone Family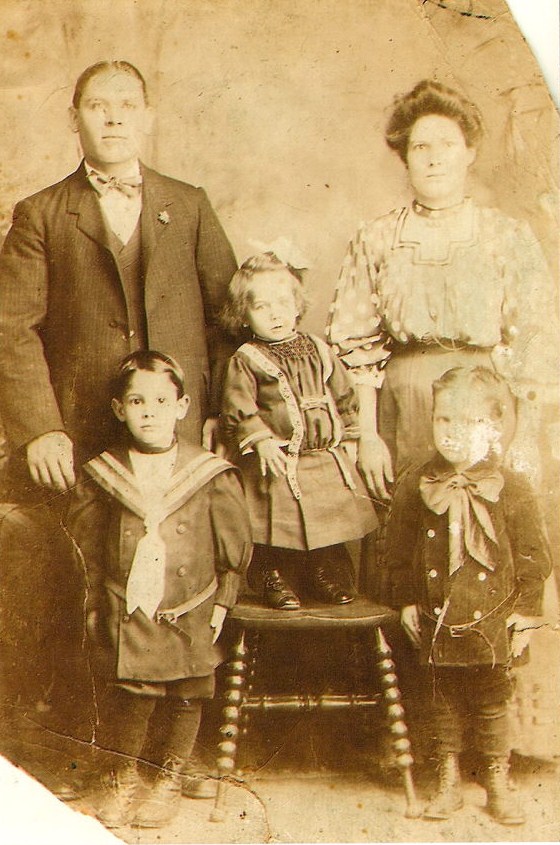 Photo courtesy of Constance Marcucci. The Family of Silvio Spallone
"This photo taken circa 1908 is a picture of my maternal grandfather, Silvio Spallone and my maternal grandmother, Concetta Lanosa Spallone with three of their children. Patsy is on the left, born 14 January 1903. Silvio, born 27 April 1904, is on the right. The little girl on the stool is my mother, Angeline (Angiolina) Rose, who was born 23 November 1905. I never knew my grandmother, who died 12 December 1919 with her tenth child in Waterbury, Connecticut. A family member suggested that the children be separated. Grandpa would not hear of it, and so he took Angeline out of school and she raised her six sisters and two brothers. She was 14 years old."
In memory of Susan Spallone Kirk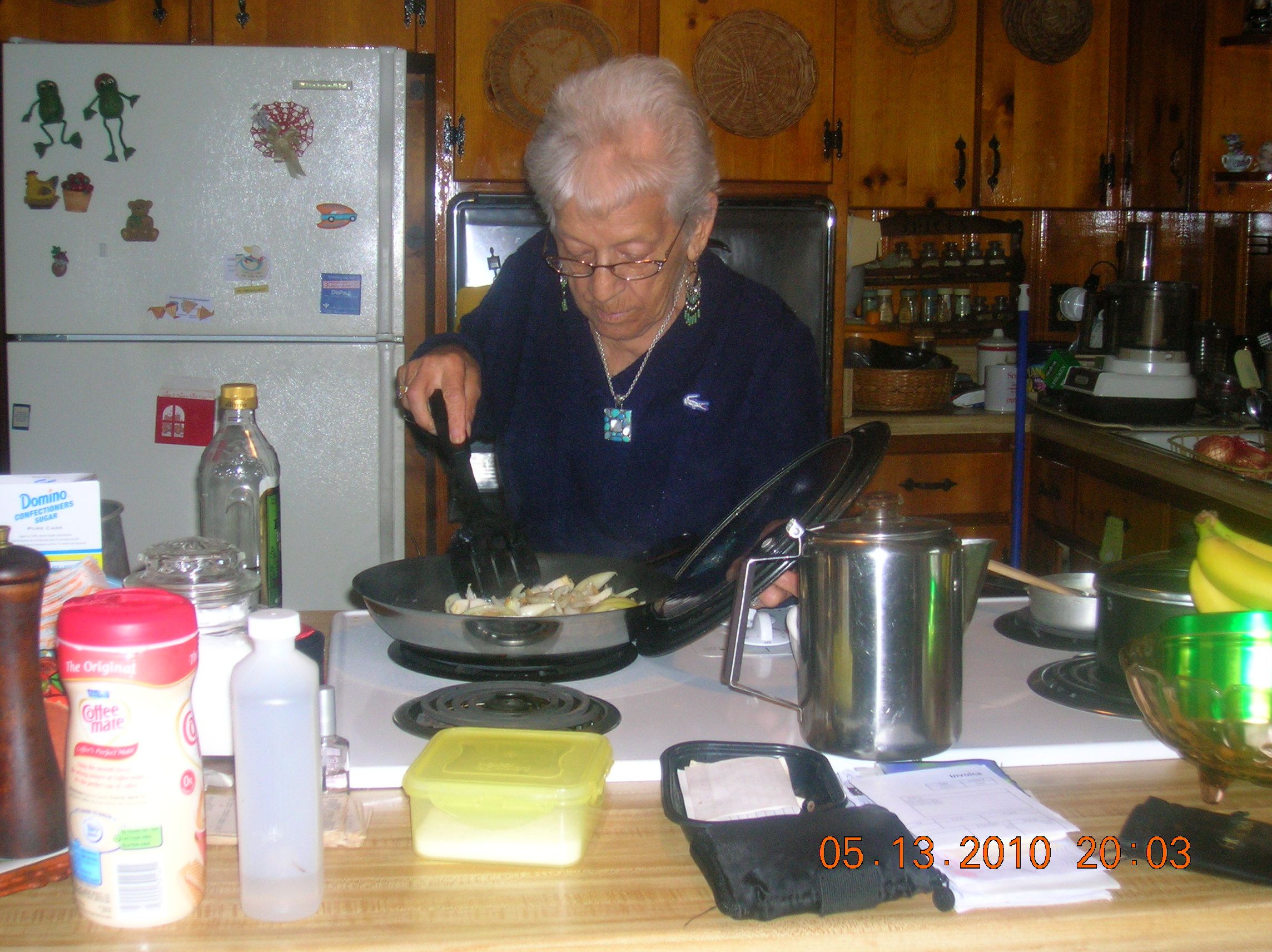 Susan Spallone Kirk was the last of ten children of Silvio Spallone and Concetta Lanosa of Celenza. Descendants of Celenza are known for their longevity, and Susan was no exception. She lived to be 96 years young! The following is a tribute, written with love by her niece.
Norfolk, VA. Susan Spallone Kirk a long time resident died on April 29, 2012. A retired civil servant, Susan was an avid and talented golfer, reflected in many trophies and certificates of accomplishments. She was also a life time member of the Cavalier Golf and Yacht Club. She was no dummy at Bridge but rather a formidable opponent. She was preceded in death by her husbands, William Miscavage, 1962 and James Lee Kirk 1999,Senior Chief US Navy RET.
She is survived by many beloved nieces and nephews and a myriad of devoted friends. She will be remembered for her vitality, love of life, sense of humor, companionship and compassion.
The Santoro and D'Avino Families
Steve Davino was kind enough to share his Celenza/Waterbury ancestry with us: "My great-grandmother, Maria Saveria Santoro, arrived in America in 1897 at age 16 from Celenza Valfortore along with other Celenzani. She settled in Waterbury, CT, living on Bank Street and in 1900, married my great-grandfather Vito Nicola D'Avino, who arrived here in 1896 from Frigento Avellino. They lived on Congress Ave. until her death in 1935. They had five children. Their last surviving child still lives in Waterbury to this day."
"[Maria] Saveria's father (my great-great grandfather) Domenico Santoro, a tailor from Celenza Valfortore, arrived with his son Francesco in 1899. From 1900 - 1902, he worked as a tailor and boarded residences on Clark and Bank Streets. Shortly afterwards, he returned to Italy. Francesco "Frank" Santoro remained and worked as a tailor. In 1904, he boarded the house on Clark Street with his sister Maria Saveria and Vito Nicola D'Avino. This was the year and place of my grandfather's birth."
"Frank married and had a family. He eventually worked as a tailor at Howland Hughes on Bank Street and finished out his career there. He died in Waterbury in 1968, outliving my great-grandmother by more than 30 years."
If you have any stories or information you would like to share with us about Celenza descendants in Waterbury, please contact us .