Gambacorta Castle
I must begin by saying that the Gambacorta Castle is a PRIVATE RESIDENCE. It is NOT open to the public, and tours are not given. It is only through the generous hospitality of our friends in Celenza that a special visit was arranged for us.
We could not believe the honor that was bestowed by being invited to the Castle. Nonnie dreamed about the Castle as a young girl in Celenza, but, of course, as a peasant, she was never permitted to enter it. Here, one hundred years later, her grandson was standing on the terrace, as a guest of the current resident, posing for a picture! The halls of the Castle are lined with similar pictures of generations of the Iamele family, in that same pose, with the noble tower in the background.
We were invited to ascend the tower, via a spiral staircase and then a ladder to the top. The view was incredible. Our friend, Michela, explained to us that the tower was very old. "Trecento" she said. That is 300. Quite old. We were impressed. "B.C.," she added. Now we were dumbfounded! She explained to us how the people of Celenza actually fought the armies of Hannibal from that very tower.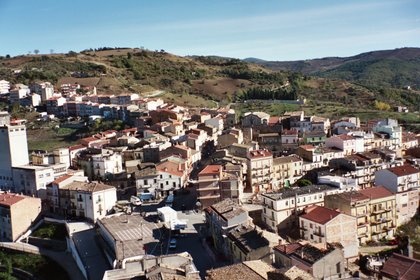 The view from the top of the Gambacorta Tower
Our hostess proudly showed us every room of her grand home, including a drawing room with a huge hutch that opened into a private altar and revealed statues of the Madonna and the patron saint of Celenza, Giovanni Battista (John the Baptist). She walked us into a grand parlor with gilded furniture and silk drapes and pointed to the cracks in the molding from a great earthquake. In one of her children's rooms, a little handmade American flag was pinned to a cork board. It reminded us of the longstanding bonds between the people of Celenza and their American descendants.